TEXT
Rich (formatted) text
The option "Add text"  allows you to add a formatted text. You can use text formatting like bold and italics, headings, images and links.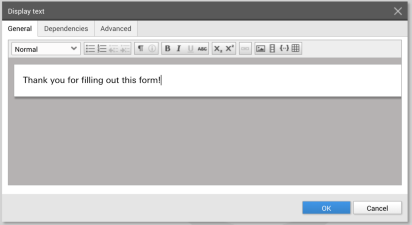 The toolbar at the top of the text field provides access to the different formatting options:
Formatting
Text style; choose one of the predefined styles for your websites. The styles depend on your web site design
 Bullets and numbering
 Change the level of your bullets and numbering - jump to the right or left.
 The properties button is available when an image, link, video or other inserted object is selected - allowing you to change the properties of the selected object.
 Bold, italic, underline, strikethrough. 
 Superscript and subscript 
 Hyperlink
 Image: upload an image from your computer
 Insert an object: which objects are available depends on your website and website design.
 Table: the table button lets you add a table to the form. Tables are not available in all forms and are not recommended for use in responsive forms.